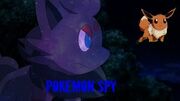 im a ninja
alittle about her
Edit
she may look like an normal eevee, but she got a secret, she is a zorua! she has to hide it for keeping her loved ones save. she is a jounior agent and is only 12 years old.
personality
Edit
she got an crazy personality, she is brave but yet hotheaded and does not always think before she goes out to an battle. she makes easely friends cuz of her craziness. she also got a kind heart and will risk her life for her friends. she got a long way to go for saving the world but she is on the way
love life
her love life is not talked about much, its reveald in the crossover with pokemon life that her friend tunder might got a crush on her but more isnent reveald yet
family life
much of her family isent seen yet, we know her mom is slyer than a fox and that madeline got an older cusin
past
we know she got an friend named molly she got killed by a darkai. do to madeline rage she discoverd her powers we know thats how she met boss and tunder
Ad blocker interference detected!
Wikia is a free-to-use site that makes money from advertising. We have a modified experience for viewers using ad blockers

Wikia is not accessible if you've made further modifications. Remove the custom ad blocker rule(s) and the page will load as expected.